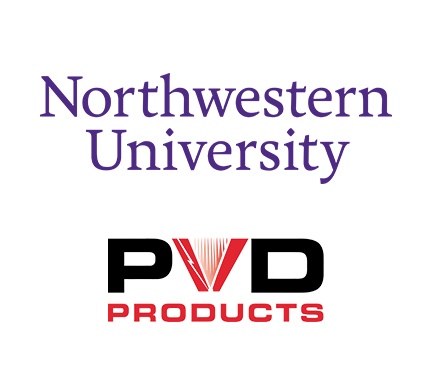 At PVD Products, we work with each of our customers to ensure that they get a custom-made deposition system that meets their individual needs while conforming to their budget and schedule requirements. We are highlighting how some of our customers use our products in unique and creative ways.
We kick things off with an interview of D. Bruce Buchholz.
Bruce Buchholz is the manager of the Pulsed Laser Deposition (PLD) facility at Northwestern University. He is a PVD Products repeat customer—he purchased a custom-configured pulsed-laser deposition system from PVD while designing the PLD facility, and then bought a second system two years later. We recently spoke with Buchholz to learn how the two deposition systems are used and about his experience working with PVD.
Broadly speaking, what is the Pulsed Laser Deposition Facility?
The PLD facility is one of the "Core Facilities" at Northwestern University. There are over 60 different facilities at the university now. The facilities provide access to advanced technology and equipment that would frequently be too expensive for any single research group. By consolidating resources into a core facility, we can assure expert maintenance on the instrumentation and knowledgeable and highly-skilled technical staff support. It also ensures consistent training of new users.
The PLD facility specifically opened in 2015. Because of my prior experience in pulsed laser deposition and thin film applications, I was able to take the lead in choosing instrumentation and infrastructure development.
Are you struggling to choose the system that best fits your deposition needs? Download our guide.
Who uses the PLD Facility?
Within Northwestern University, we have around 14 or 15 principal investigators whose students and staff use the PLD equipment. Since several groups have several users, the total number of users is larger. The facility is also available to other universities and government labs, such as Argonne National Lab, which is nearby. There are three modes of access:
Independent usage after training
Assisted use, where the user gets hands-on experience but with staff present and assisting
Staff-conducted film growth and, if desired, staff-conducted characterization
What deposition systems did you purchase from PVD Products?
We have two pulsed-laser deposition systems. The first system was custom-configured for when the facility first opened; we designed the facility around it. The first system featured a load lock, RHEED, and Intelligent Window. We bought the second system a couple of years later. When designing the second system, we had a better understanding of necessary considerations and capabilities we had overlooked the first time. For example, we optimized the chamber geometry and changed the carousel diameter and spacing. This was a custom development that PVD did for us. We still use the first system every day, but this second system allowed us to expand and improve deposition applications.
Why did you choose to buy your PLD systems from PVD Products?
PVD was the best value when evaluating vendors, and they were able to meet all the capabilities we outlined in our requirements. The load lock and Intelligent Window are unique, and they have made our processes more efficient. We also like that the equipment is easy enough to use that, with training, researchers can become proficient enough to do coatings without me present.
How did you work with PVD Products to develop your PLD systems?
There was extensive communication between us. When we bought the first system from PVD, we already knew we would need to buy a second system. While we were designing the first system, I asked for information on designing the second. PVD provided us information even though the purchase would be further down the line. Because we had a rough idea of what the second system would be like, I was able to make sure we had the infrastructure and space for a second system. This was very important to the planning process for us, and it was extremely helpful that they were so willing to put this information together. We basically built the room to house the second system before we even had the first! This saved us considerable inconvenience and cost when installing the second system.
What did you enjoy about designing/purchasing your deposition system from PVD Products?
They work with you. PVD spent time explaining the details of system operation so that I was sure I was getting what I needed. They never said, "We don't do that." They would always say, "OK, we'll figure out how to do that." They've found ways to evolve equipment to meet our needs without buying new things and in a manner unique to my unique application. For some of our applications the equipment is used to deposit custom composition films from two targets; 30 pulses of one target followed by 10 of another, for example, to make a 1 nm thick film layer. To make a 500 nm film, it would take 500 cycles of the two targets. In a collaborative effort, PVD and I kept discovering ways to shorten the time needed to deposit from each target, like rewriting software to eliminate an unneeded on-off fan cycle. That shaved 18 seconds off the 78-second two target cycle time. We eventually reduced the process time to 48-seconds. That saved us 30 seconds per cycle. The deposition time for a 500 nm thick custom composition film went from 10.3 hours to 6.1 hours making this option much more attractive to the users. The follow-up support has been a huge benefit, and we know future systems and products from PVD will work and work well.
Learn more about how PVD can help you design a deposition that best fits your application needs, download our guide:
Designing from the Inside Out:

Building a Customized Deposition Tool for Your Thin Film Application
---
About D. Bruce Buchholz
Dr. Buchholz received a BS in chemical engineering from the University of Illinois at Urbana-Champaign in 1977 and went to work for Western Electric as a thin film engineer. He received a company fellowship and earned an MS in chemistry from Northwestern University in 1983, after which he was transferred to a Technology Transfer Department to introduce new thin-film processes from Bell Labs to Western Electric. There he received a company fellowship and earned a Ph.D. in Materials Science from Northwestern University in 1997, after which he was transferred to a prototype center in Bell Labs. He was retired from Bell Labs in 2001 and has since worked for Northwestern where many areas of research again deal in thin films. He has over 100 publications.