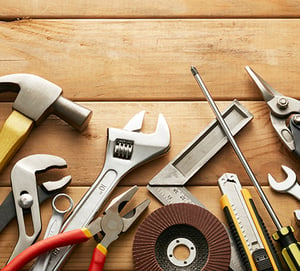 Advanced deposition research and production come with unique needs, and when faced with the limitations of commercial deposition systems, it often seems most straightforward to do it yourself (DIY). Building a custom deposition system can be its own learning experience, but unless building deposition systems is a direct component of your research or production, your resources would generally be better spent buying a custom-made product from specialists.
Although purchasing a new deposition tool requires a careful balance of budget and capabilities, an experienced and knowledgeable partner will work with you throughout the process to manage that balance.
Use our Cost-Drivers for Thin Film Deposition Tools guide to learn how to best balance capabilities and budget in system design:
Below are seven reasons to consider purchasing a deposition system rather than DIY-ing to ensure you get the tool you need:
Time: Time spent building research equipment means less time doing research. Outsourcing the design and build of your custom deposition system speeds up the equipment delivery while allowing you to continue focusing on your work.
Opportunity Cost: Time is money, and purchasing your custom deposition tool will save you money in the long run. Building your own deposition equipment means paying technical staff to work on a project that is not directly earning a profit. That production and research downtime doesn't have to be sacrificed when you collaborate with a design team for your system build.
Economy of Scale: When building a deposition system yourself, you will generally order single parts in a piecemeal fashion at market price. Working with a team that specializes in deposition tool development saves you money because parts can be ordered from established vendors at lower prices.
Advanced Technology: Building a deposition system yourself limits you to using only the equipment that you already know. An experienced deposition system partner will be familiar with the newest technology and techniques. At PVD, we often invent the newest technology in response to our customer's unique needs. This allows us to offer better customization to meet specs and performance requirements.
Guaranteed Performance: Quality deposition system partners provide support before and after the sale, ensuring installations are successful and systems perform as needed. Our team is committed to building deposition systems with long operating lives. Systems we have made are still in use decades after installation. If issues arise, our team collaborates with customers to resolve problems and learn from the adjustments made.
Scalability: Our engineers at PVD design each deposition system with "expandability" in mind. If you know that your needs will change in the future, we will make a system that can change with you. When DIY-ing a deposition system, it's easy to be narrowly focused on the capabilities of the immediate future without considering how the tool should serve your needs later down the road.
Unique Capabilities: Working with an outside partner should offer advantages in equipment design and deposition techniques or features. For example, our Intelligent Window and load lock systems will save you considerable time and money, and we know how to integrate these unique products into equipment to your best advantage.
Building this form of advanced equipment is fun – that's why we do it! However, it is often not the best use of your resources. Interested in weighing your options? Give us a call to discuss whether a custom-made deposition is the best choice for you.
Still unsure of where to start with your new deposition system? Download our free guide: Choosing a Thin Film Deposition System.