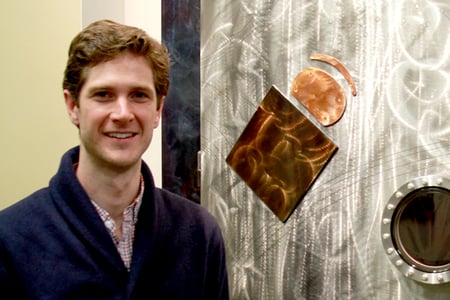 A wearer of many hats, Eric has experience in engineering, management, and sales support. As a big believer in the power of a team, Eric found PVD Products' process very appealing from the start. Making a piece of capital manufacturing equipment involves a team effort, from engineering, test and assembly to the end user.
We spoke with Eric about how he uses his engineering background and problem-solving skills in his role as Mechanical Engineering Manager to ensure that each customer's unique product demands are met.
What is your professional background?
I am a mechanical engineer by training, with experience in capital equipment design and manufacturing. I began my career in offshore oil and gas as a systems integrator and later moved into the vacuum equipment world. During this time I transitioned to project engineering, where I really found my interests. I enjoy the interaction with colleagues, scheduling, meeting timelines, and the day-to-day management of projects, all as part of a cross-functional team. I eventually moved into supervisory roles amongst my team and had the opportunity to travel around the world. Being exposed to a wide variety of backgrounds was eye-opening and broadened my horizons.
What brought you to PVD?
My capital equipment background made PVD a natural fit, but what really drew me in was the opportunity to be part of a growing organization that likes to take on challenging work. I also discovered early on that PVD Products has a fun, dedicated work culture. It is a team atmosphere, and I could tell from the start that I would have the opportunity to contribute tangibly to the big picture. PVD is the type of company where if you see a need and know how to address it, you can step up and be a part of the results. Besides that, there is a huge world of physics and material sciences which has been a lot of fun to explore!
What have you learned from working with PVD customers in research and commercial industries?
I've learned that complementary knowledge bases are quite powerful. Many of our customers have deep understanding of thin films and materials science, and they have very focused goals for what the process end results should be. PVD has the capability to speak that language, and we add the equipment design expertise to understand and then translate their needs into functional hardware. Often the two perspectives result in a great back and forth with customers where we help them refine their needs within the context of hardware capabilities.
What are the key areas you explore with customers?
On the sales side, I explore the needs for the project, any problems or constraints, and how we can solve them. It's also necessary to learn what is important to the customer. We explore the end product which involves discussing the criteria and specifications, the quality of the end product, or the process of how to achieve that end product. On the engineering side, I remain in contact with customers throughout the project to ensure that the design progresses in a way that meets or exceeds the customer's needs. I see the project through design until we are ready to assemble, test, and install.
What is something you would like customers to know that would help reduce cost or lead time?
It helps to have well-defined specifications up front. This allows us to avoid any major refinements during the design phase that would push back the timeline and ultimately delay the customer's project or production. Clear expectations of the end product result in a smooth process.
What are you working on these days?
A large focus of my work has been dedicated to operational improvement. The company has recently hired a senior mechanical engineer and mechanical assembly technician. I have been involved in defining the roles that the company needs, recruitment, and hiring.
What project are you most proud of working on at PVD Products?
Many projects here have been rewarding, but looking back one of the most valuable was a program I ran to standardize several individual PLD/MBE products into an organized family, which has allowed us to streamline our engineering and manufacturing cycles for those systems.The results have been improved quality, reduced time to delivery, and reduction in costs.
---
Our team at PVD Prducts is the best of the best for standard and custom thin film deposition systems, helping to get your ducks in a row every phase of your project. Interested in collaborating? Send us your specs to get started.