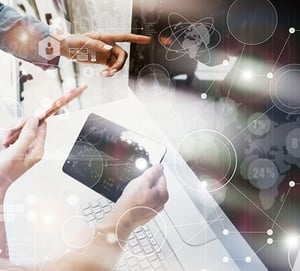 In September, we announced our exclusive licensing agreement with The Ohio State University to commercialize a patent-pending deposition technique developed by faculty member Dr. Fengyan Yang. The innovative technology is based on off-axis sputtering and Dr. Yang's research group has demonstrated how the new process can be used to grow a broad variety of epitaxial films that have a crystalline quality that rivals more expensive processes, such as molecular beam epitaxy (MBE) and pulsed laser deposition (PLD). The new capabilities developed at the university will meet the growing demand in physics, chemistry, and material science for entirely new classes of materials in both academic and industrial research and development.
We recently spoke more in-depth with Dr. Yang about his general research interests and his vision for the applications of this new sputtered deposition technology.
How did your group develop a relationship with PVD?
The Technology Commercialization Office of The Ohio State University contacted PVD for potential licensing and commercialization of the off-axis sputtering technique that we developed. PVD was interested in the technology and met with us at the 2018 APS March Meeting in Los Angeles. Since then we have been working on licensing the technique and developing a commercialization plan.
In general terms, what is the basic idea of the new method?
Sputter deposition is one of the dominant techniques used in manufacturing films and coatings because of the low cost, reliability, scalability, and the capability of depositing a wide range of materials. Conventional sputtering uses the on-axis geometry where the substrate directly faces the sputter target. Due to the energetic bombardment of the sputtered atoms, this was regarded as a "messy" process. Although on-axis sputtering has been used to grow various epitaxial films, the crystalline quality of the epitaxial films is not very good.
For many complex oxide and intermetallic compounds, the crystalline quality of the epitaxial films is critical for their desired properties, such as half-metallic ferromagnetism, ferroelectricity, multiferroicity, and superconductivity. To overcome the problem of bombardment damage caused by on-axis sputtering, off-axis geometry has been used in sputtering at high pressure, e.g., 200 mTorr. The high-pressure off-axis sputtering significantly reduces the kinetic energy of the sputtered atoms; however, due to the frequent scattering of the sputtered atoms by the gas molecules in high-pressure sputtering, the deposited films often have different stoichiometry from the target, and the reproduction is poor.
To simultaneously address the problems of energetic bombardment and off-stoichiometry associated with conventional on-axis and high-pressure off-axis sputtering, we developed a new off-axis sputtering technique over the past several years. Using this new technique, we have successfully grown single-crystalline epitaxial films of a broad range of complex materials. All have a high degree of structural perfection and stoichiometric compositions including Heusler compounds, B20-phase FeGe, CoFe alloys, double perovskites, and YIG.
Our off-axis sputtering deposition technique differs in several key aspects from the conventional sputtering techniques. We discovered that the energetic bombardment problem associated with on-axis sputtering could be eliminated at much lower gas pressure, such as 5-15 mTorr, by positioning the substrate within an optimal range of angle with respect to the target's normal direction. A critical difference between our off-axis sputtering technique and other sputtering techniques is how the sputtering targets are made, which ensures proper stoichiometry for a wide range of complex materials.
What new abilities or improved capabilities can users expect from this new deposition technique?
Users can expect much improved crystalline quality as characterized by X-ray diffraction and transmission electron microscopy. In fact, the crystalline quality of many films made by this technique rivals those of high-quality epitaxial films made by MBE or PLD.
What type of users will most benefit from this new technology?
This will be most beneficial for users who care a lot about the crystalline ordering and stoichiometry of their epitaxial films for research on new functionalities or applications that require high crystalline quality.
The new opportunities presented by this collaboration are very exciting. These new capabilities will be of tremendous value to both industrial and academic customers.
Interested in learning more about how PVD's industry-leading innovations can benefit your deposition needs?
Send us your specs to get started. We'll follow up to discuss how we can collaborate to meet your research challenges.
Dr. Fengyuan Yang joined the faculty of The Ohio State University in August 2003. He has published 112 peer-reviewed papers, including 1 in Science, 1 in Nature, 2 in NatureCommunications, 16 in Physical Review Letters, and 1 in Advanced Materials. In recent years, Dr. Yang's research has been funded by NSF and DOE single-PI and small-team grants, Center for Emergent Materials (CEM, an NSF MRSEC), NSF Major Research Instrumentation grants, and DARPA.