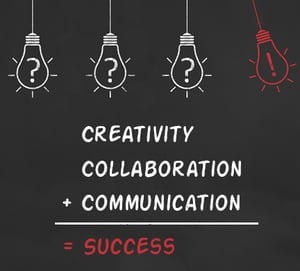 For decades, PVD has been the leader in designing and building custom deposition systems. Our motto is "Creativity, Collaboration, Communication." What does that mean for our customers? Below we outlined how each of these words are applied into our process daily and how it translates into customer success.
Creativity
We like to solve "unsolvable" problems. Every customer comes to us with unique needs, and our flexibility allows use to customize a deposition instrument to meet those needs. At PVD, we foster a culture in which we encourage our team of scientists, engineers, and technicians to approach those challenges from fresh perspectives and to try new things. This culture of innovation consistently provides deposition equipment solutions that other vendors are not equipped to provide.
Collaboration
The PVD team considers ourselves to be an extension of a customer's design team. Thin film deposition systems are complex in their own right, but additionally, they must be installed in a work environment. To guarantee that our customers get the best possible performance from our equipment, we work with their team from conceptual design through installation. This hands-on approach allows us to ensure customers get the best possible performance from our systems. This personal involvement includes addressing a range of issues such as space and power constraints, user safety, and installation – including whether the instrument will fit through the doorway!
Communication
The production of every single thin film deposition system that PVD produces begins with the same first step: listening to the customer. Not every need can be captured in a spec sheet. By first engaging in a conversation with the customer, we gain clarity on the project goals and we frequently uncover critical issues that were not obvious. That conversation continues through every aspect of deposition system development because we establish structured design reviews to ensure that our customer is onboard with the approach. Finally, production of every custom system has the same final step---there isn't one. We welcome customers who reach out to our team for help with operational issues and new challenges even years after delivery and regardless of distance. We always offer phone support, and in some instances, we can also provide service via remote access. We know it usually isn't feasible to ship a product back to us for repair, so, if necessary, we go to the customer.
---
Have more questions about working with us or thin film deposition system development?
Visit our FAQ page: