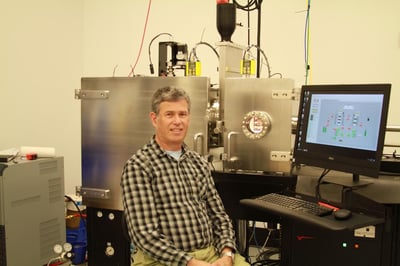 PVD Products is proud of the equipment we produce. But it's our responsibility to have the users, whether they are in a research lab or production factory, really understand how to take care of and optimize the capabilities of these tools. That's why we have Clark.
We spoke with Clark about how the tool needs to be user-friendly and user-ready. It's his role as Software and Test Engineer to ensure that customers feel confident and capable using the technology to accomplish their goals.
What is your professional background?
I got my Master's in mechanical engineering at Rensselaer Polytechnic Institute, and from there I started in electron beam lithography. That helped me to learn my way around vacuum systems.
It was while working at Bell Laboratories on physical design packaging for electronics equipment that I learned computer science and programming. With this knowledge base, while consulting and finding other work, I taught myself LabVIEW software.
What brought you to PVD?
PVD was seeking a LabVIEW programmer seven years ago, so I began as a contractor and was brought onto the team full-time five years ago. I was drawn to PVD because we're enough of a boutique supplier that every job is different. There's always something new to play with and work on around each corner.
What have you learned from working with PVD customers in research and commercial industries?
It's interesting to me that every customer is a little different from each other. With customers in the commercial space, the level of expertise and conversations come from a different angle than those in the R&D space. With our researchers, we understand that sometimes they are likely to be in this position only a few years to complete a project, and then a new set of researchers will come in. The lifecycle of our relationship with these two groups of customers varies.
What are the key areas you explore with customers?
I support and travel to our customers for anything from user education to installment to replacing parts. I'm the guy that makes sure "everything works," which involves:
Learning the requirements
Writing the software
Testing the system to insure it meets all functional specifications prior to shipment
Work with mechanical and electrical engineers to improve design of various assemblies
Debugging hardware and software issues
Automating equipment
Packing and unpacking equipment to ensure safety during travel
Writing user manuals
Getting the equipment out our door and through the customers door working smoothly
Installing
Teaching customers how to run vacuum a system
Teaching users how to use our systems
Learning what our users are doing with our systems
Enhancing systems once installed to better meet our customer's needs
Anything you'd like them to know that would help reduce cost or lead time?
I find that more advanced users will ask if they could use the system a certain way first. Where we end up seeing increased overhead time in the process is when a customer doesn't take the time to really talk through what they are trying to accomplish. They then realize afterwards what they thought they wanted, isn't what they really want now. Collaborating with our team and asking big questions matters during the early stages.
What are you working on these days?
This year I have travelled a bit, nationally and internationally, to places like Seattle and China for the installment of pulsed laser deposition tools. I'll be heading to Korea next month, installing commercial sputtering systems.
I was also responsible for overseeing the hardware and software changes of these tools from using our standard PLC control system and LabVIEW software to a more industrial PLC and software. This helps this customer minimize the number of spare parts they need to stock with multiple types of tools on the floor. Collaborating internationally has been a great experience.
System you're most proud of?
PVD Products provided a combinatorial sputtering system to a major semiconductor corporation that included predictive software, allowing the customer to easily set up multiple magnetron sources, each with different target materials to create unique compositional test pads. Multiple test pads with, say, 64 new compositions could be deposited on the same wafer within several hours automatically, without user intervention. The materials developed in such a tool will be used in next-generation electronics, so it was pretty neat to be a part of.
This customer is coming back for enhancements to this tool right now to make this unique machine even more unique, where we'll do some retrofitting and add an alternative type of deposition process to this machine.
---
Our team at PVD Prducts is the best of the best for standard and custom thin film deposition systems, helping to get your ducks in a row every phase of your project. Interested in collaborating? Send us your specs to get started.