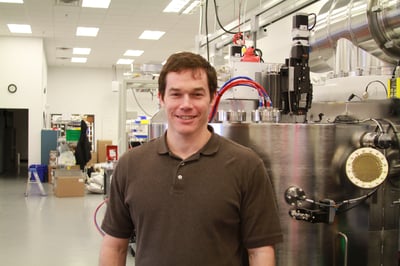 It makes us very proud to say that we are Adam's only employer after he had finished schooling 12 years ago. We've watched him grow from a grad student doing research to leading our team as an applications engineer. It's Adam's dedication to this team that has helped to create strong, trusting relationships with our customers. We spoke with Adam about his role in bringing challenging and exciting projects in a wide variety of applications to life.
What is your research and professional background?
While pursuing my undergraduate degree in physics, I was fortunate to have had the opportunity to gain research experience during my summers at a lab that utilized many of the tools and processes that we use here at PVD Products. Applicable skills I learned included thin film deposition, vacuum equipment principles, as well as how to use a SEM. Ultimately that experience enabled me to get my foot in the door here at PVD Products, and 12 years later I am still here.
What brought you to PVD?
I was going to graduate school for mechanical engineering and was looking for a job to pay for school while gaining relevant experience as an engineer. Graduate school teaches a lot, but it can often leave out the practical side of one's chosen subject. I wanted to fill that gap in my skill set. PVD Products was looking to hire a junior design engineer and, while I didn't have the qualifications as a machine designer, my background made me a good fit to assist in the assembly, testing, and other day-to-day functions at the company. While my main job initially was not engineering, I was able to learn that part of the job along the way and eventually gain the skills to design a full machine.
What do you like most about working at PVD?
Without question, my favorite part about working at PVD Products is the opportunity to work on a wide range of projects and utilize a wide range of skills. When you specialize in custom equipment, everyone at the company is expected to work on multiple projects, often two or more at a time.
I am in a unique position, given my background, where I get to use my diverse skill set in a range of roles. I might spend half of the day designing a machine or components in 3D CAD, and I might spend the rest of the day testing a machine, running our in-house deposition equipment for a customer, or helping out with assembly. I never get bored and am always learning something new. Also, the machines that we build are pretty amazing.
What have you learned from working with PVD customers in research and commercial industries?
One thing that continues to impress me about our customers is the variety of projects and fields of research for which they are utilizing PVD Products machines. They are being used for everything from growing carbon nanotubes, to thin-conductive oxides for solar cells, to high temperature superconductors, and even water splitting for renewable hydrogen production. And the list goes on.
What are the key areas you explore with customers?
As both an engineer and someone who does processing, there are two avenues. As an engineer designing a machine for a customer, I make sure that the functionality of the tool is what they expect. Besides communicating with the customer, I also make sure the software engineers and electrical engineers at PVD are on board with these requirements. As a process engineer, running our in-house deposition tools for customers, I make sure the films are grown as the customer wants and also make recommendations on parameters if the customer is unfamiliar with the process.
Anything you'd like them to know that would help reduce cost or lead time?
In terms of getting the machine set up and ready to use in a timely manner, it is critical that customers have their facility ready when the machine is delivered. This includes having the physical space, electricity, water cooling, process gases, etc. ready. Delays in this area lead to delays in getting a PVD installation engineer on-site for final setup and training.
Another area that customers may forget to plan for is the potential for future upgrades to the machines. Many PVD products have the capability of being upgraded in the future if, for example, the customer wants to add extra deposition sources or analytical tools such as RHEED. This becomes more difficult on the highly customized machines or if a customer wants to add something that is less standard than what we typically use. Knowing that you may want to add a component in the future allows us to engineer that capability in from the beginning and makes any upgrade faster and cheaper.
Is there a system you're most proud of?
One tough but rewarding project that stands out was a customer demonstration we did for a combinatorial sputtering tool that also incorporated laser heating of the substrate. Heating a sample can enhance the properties of a deposited film dramatically, but a typical vacuum system with heating needs to heat up the entire sample. This is a problem if you are hoping to produce uniquely defined deposition sites at various points on the substrate, since you need to find a way to only heat up that small portion of the wafer to a specified temperature without affecting the other sites. We had demonstrated this before in testing, but the potential customer wanted to see it firsthand with their materials, wanted to add an advanced temperature measurement tool and had more exacting requirements than we had shown previously.
By modifying our in-house sputtering system I was able to:
Demonstrate that we could mask the wafer in a manner that would give sharply defined areas of deposition.
Incorporate a laser into our system that would heat this narrowly defined area of the substrate up to 850° C.
Install and then work with the makers of an analytical temperature tool to show we could accurately control the temperature of these spots.
Build, by hand, a chill plate for the system that would keep the other areas of the wafer cool while the active spot was heated.
Prove that we could RF bias this one small area of the wafer.
By working closely with the customer we were able to satisfy all of their requirements. This led to the purchase of a large combinatorial tool that the customer set on a daily basis.
---
Our team at PVD Prducts is the best of the best for standard and custom thin film deposition systems, helping to get your ducks in a row every phase of your project. Interested in collaborating? Send us your specs to get started.